Regular price
$17.99
Sale price
$17.99
Unit price
per
Sale
Sold out
View full details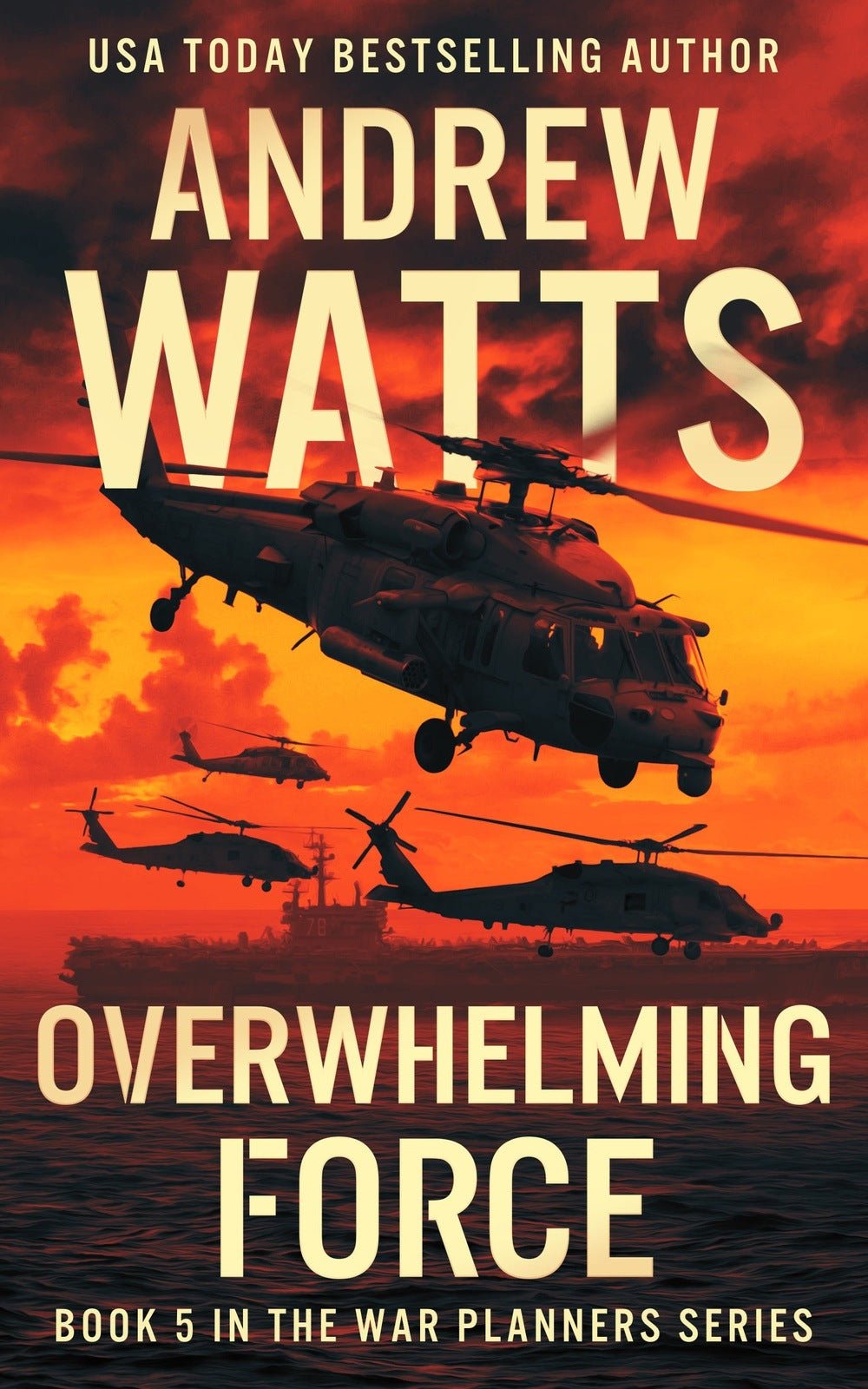 Description
Description
From USA Today bestselling author and former US Navy pilot Andrew Watts comes a series made for fans of Tom Clancy and Vince Flynn.
____________________________
Book 5: Overwhelming Force
When the Chinese military launches a surprise attack on the United States, the world is thrown into chaos.
The Manning family is spread out over the globe, each doing their part to defend America.
With the Chinese fleet advancing, Admiral Manning commands the USS FORD carrier strike group near Midway. CIA operative Chase Manning is sent home to the US to fight a lethal unit of Chinese special forces. LCDR Victoria Manning hunts submarines off the coast of Guam. And intelligence analyst David Manning tries to decipher Chinese plans.
But President Cheng Jinshan and his deadly operative Lena Chou have set their plans in motion. A gargantuan Chinese fleet, with new cutting-edge technology, is making its way towards the American forces. And as the two superpowers collide, it will take skill, courage, and cunning to win the day.
_____________________________
Praise for Andrew Watts and The War Planners series:
★★★★★ "Brilliant read…"
★★★★★ "Couldn't put it down."
★★★★★ "Tom Clancy set the bar for warfare with Red Storm Rising in 1986. Today, a new bar has been set for a new generation. Readers of Book 5 should plan on setting aside a few hours, silence their cell phones, put out a do not disturb sign and read from cover to cover."
OVERWHELMING FORCE is the fifth book in The War Planners Series, by USA TODAY bestselling author and former US Navy pilot Andrew Watts.